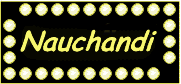 Is this age old Mela going to eventually die ? Not for another decade hopefully. Stall owners speak of increasing costs for electricity and rents. Cars can be taken in before 6pm . Things really heat up after 9pm. All the regulars are there , the churan shop, the circus , the Lucknow Chikan shop. The ferris wheels grow bigger every year. The amusement park with the funny mirrors is there.
This was the main event of the year right up to the Eighties. In the 60s the arrival of the circus used to be announced by a powerful search light beam moving across the skies.
Gather ye flower buds while ye may..
But this is April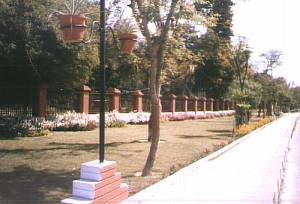 Left - The Mall

By May these beautiful flowers will have gone. In another part of the world armies are involved in their specialty - bloodshed, here they have taken pains to maintain flower beds which can be viewed by people at large. The effect of unexpectedly seeing flowers has been aptly described by many poets.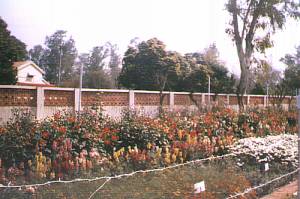 Right - Kanker Khera Road

Many houses have flowers inside high walls ( so making them invisible to the passer by ), but many in Saket and defence colony have put flower beds outside their houses. A simple wire mesh keeps the cows away.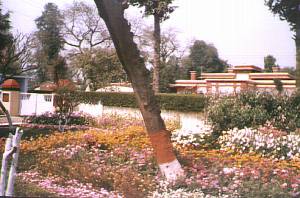 Left - Circular road, these have been in bloom for maybe 2 months. None of these pictures do justice to the real view.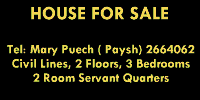 ---
Points to Ponder
The Iraq war was conceived and executed all within a period of 8 months. We are still deciding which one to disinvest first BPCL or HPCL.
When there was no electricity and water in Basra for less than one day they started calling it a disaster area, and a Humanitarian Crisis. Let us have at least one minute of silence every day for poor souls like us in towns like ours.
Read previous ones
February , January ,
---