INDIA Meerut Sophia, Wheler's Club, Meerut College - 5
May not look right in Netscape and AOL Browsers. Press F11 for a better view.
---

Last updated - Friday, 17-Mar-2006 23:31:28 EST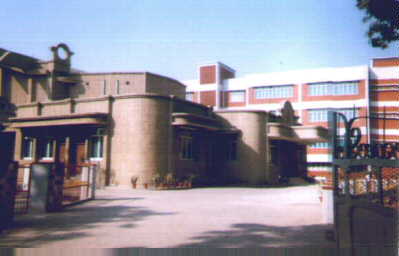 The delightful Sophia School Auditorium. Completed 2000. The senior school building is in the background .

After half a decade of Independence there is a great shortage of good schools in the surrounding region. Schools run by Nuns and Brothers are highly rated not withstanding the objections of the loud minority.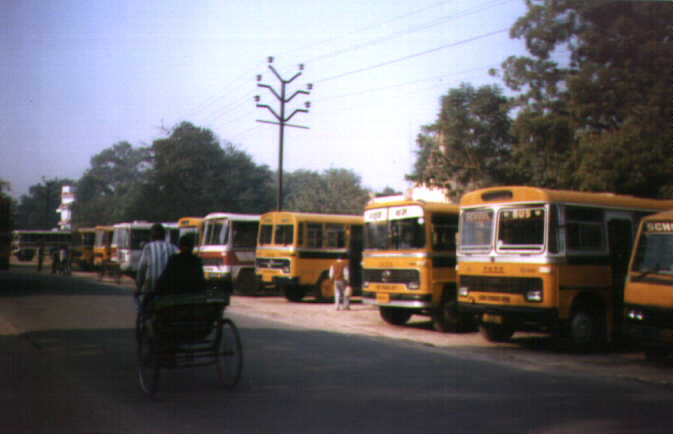 The buses you see here lined up outside Sophia, bring children from great distances - Mawana, Daurala, Hastinapur, Modinagar, Khatauli even Simbhaoli 70 km away. Mothers and children wake up around 4:30 am in some cases to get on the busses by 5:00 am. By the time they are home it could be 4:00 pm in some cases.( These towns exist around sugar mills ). With pointlessly heavy schedules, there is no time left for play. Things are changing of course, they are lightening their school bags. Right now the old Hebrew saying "a child is not a vessel to be filled but a lamp to be lit" sounds like a good joke.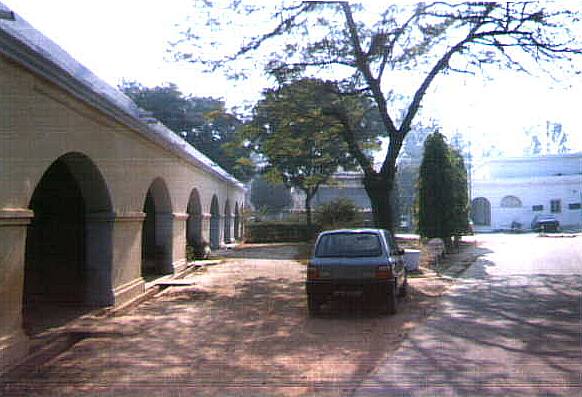 Please put the mouse over these lines to change pictures.
Whelers Picture One
Another one
A wedding at Whelers
Don't miss the Chattris at the top,in the Wedding picture.. They are exact replicas of Begum Sumroo's Chattri still preserved at Sardhana.
Built 1863 . The still impressive Wheler club. Largely Army crowd. You may not hear English spoken in the market place but you will hear lots of English here. The second picture shows the Wheler club lawn . Housie ( Lotto , tombola) on Saturday's. Old Movies on Wednesdays.
It is a restricted subset of the real thing with a few swear words, overworked to convey a very wide spectrum of meanings. There is a great affinity for much that is Western, also there is scant regard for politicians who are referred to as Dhoti wallas. By the way fancy clubs are found wherever cantonments* are located. And they are located even in places like Kasauli, Ranikhet etc. That is wherever the East India Company ( EIC) left them. I am sure the Indian Army could close down some of these dinosaurs and spend the money saved on better weapons. India was an exotic travel destination for the EIC people. Even Meerut had a number of hotels until Independence. The present St. Mary's Academy occupies an area which was covered by 3 hotels. Volga , Deluxe , and Stiffles. Stiffles also covered the area across the road. The names which still remain are that of De Roses ( opp. St. Mary's) and Royal Hotel ( owned by the Price brothers , the last one was alive till the late 80s). By the way a major 'part' of the income of EIC Army officers as well as lower ranks was through plunder and loot. This was stopped when the Crown took over. Sure enough the "field actions" stopped after 1857. And India became more of an Adventure camp than a gold mine.
* What is a cantonment? How did they appear in India? Are they still relevant? Click here for a very well investigated write-up.
Some notes: Let me take advantage of that to mention a few things which went into making these pages... They say that the best things in life are free. Get these from the Net and you will agree, Xnview for graphic manipulation - specially improving focus ( great for bad cameras ) and the Crimson editor for Perl Scripts and just about any other Text editing. I use Notetab too, available from www.notetab.com, very configurable if you spend lots of time with it. Can even compare and show differences between 2 files.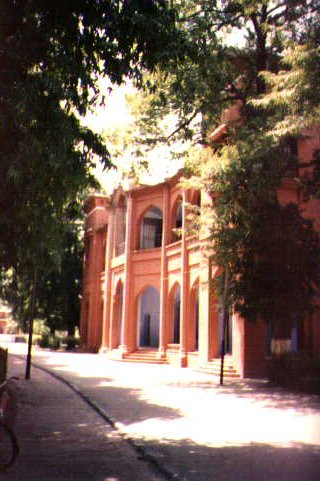 The impressive Meerut College building. Established around same time as the Delhi University - by the British. We did have an educational system before the British. It was just that it was less structured and not well defined. A lot of emphasis was given to knowledge of the immediate locality and even regional history. Many popular text books for science and maths have been written by Meerut College professors. Most young people are under the impression that everything including roads and courts were the work of the British. Hardly, in fact the courts - just after The East India Company installed an administrative structure - were still called Adaalats.
New to Meerut ?
This may help
Looking for a quick meal ? You cannot make a mistake with Manchow at the entrance of West End Road near Sadar Bazaar.
Meerut is great for repairs. For TVs & Cell phones head for PL Sharma Road. Vasudev Electronics in particular for Computer Monitors, Sound systems, TVs. PL Sharma road is also the place for Xerox , Computer work etc. For home repair you cannot find a better person than Mr. Ashok Sharma (9412200621) especially for Akai and other unsupported TVs. Including help with Electronic Projects.
Computer Printer repairs ( Inkjet or Laser ) of any kind Contact Mr. Sharma at Thapar Nagar on Tel : 3101918.
Computer Repairs Shri Sai Computer Garage 103 , Akashdeep Complex. PL Sharma Road Ph: 0121-2663804.
Pathfinder for non standard sometimes even non profitable work related to your computer. Contact Sanjay 103 Aashirwad Cmplx, PL Sharma Road. Foretek System near PL Sharma Road entrance is as good as Nehru Place. You can even get EPROM programmers at Professional Electonic Products on Delhi Road they are the makers of PEPTELLER machines
Musical Instruments : These are available opposite "Ashok ki Lath" beside Nadir Ali building. One of 2 manufacturers of Trumpets/Bugles in India is here - Nadir Alis. Be careful or you can also pick up something which can send dogs howling. Those are the ones you hear at wedding bands.
Cycles Clocks Watches Calculators... - Ghanta Ghar.
Bangles - Lal Kurti Bada Bazaar. Furniture - Hanuman Chowk Bombay Bazaar.
Repairs to Refrigerators, Microwave,TV sets Unique Quality Experts 267/7 Thapar Nagar, tel: 9837045454 , 0121-2402733, 2527980 - repair at site. Also Indian Service Network at Shastri Nagar, not far from the Kan Systems showroom.
Generators and other Hardware Khair Nagar, and Opp. Govt. College.
New ways Bakery in Saket is definitely worth a visit once in a while. There are good bakers everywhere, Abu Lane, Bombay Bazar, Sadar Bazar, Soti Ganj and Lal Kurti . There was a huge Bakery in Lal Kurti . That is where all the bakeries started from.
New/Old Cell phones : Ganga Plaza(Dreamworld), Abu Plaza, Vardhaman Complex( Sardarji), Ghanta Ghar.
Paenth Bazaar(if you have a better spelling in English do let me know ) ( around Shastri ki Murti ) for all kind of clothing -- cheap. You may find shopkeepers from the proper shops also purchasing things here. All the shopping complexes are full of Garment Shops. Ganpati Complex, Vardhman Complex ( impossible to find but ask for Sardarji the Cell Phone shop). And Bindals is not in a shopping complex.
Lending Library - Just ask for JS Library not far from the CDA building near Meera Jain's Hospital. You will never buy a book or magazine again in Meerut.
Good Carpenter : In the lane to the left of the Animal Husbandry Office on Abu Lane. Often uses Electric tools and is quick.
Plants and Flowers there are a lot of plant and flower sellers, sometimes on a handcart. Some of the permanent ones are in BI lines , and on the Roorkee Road just after Company Garden on the left going to Mussoorie.
Waterfield : 215 Saket Opp. Times of India Off. Tel:0121-2653256. No plants and flowers ? But you will like the Cotton Towels, bed linen,co-ordinates, curtains, cushion covers and a 100 other things that they stock.
Sports goods :The shops near Suraj Kund are the source for Sports goods for almost all of India, and many export. The rackets made here are routinely available for 3 to 5 times the price in Delhi or Mumbai. Great for weight training stuff too. It is cheaper to even drive down from Delhi and buy them here. By the way Meerut and Jalandhar are the two major sports good centers. That includes Cricket bats used by the Indian Cricket Team, including the one that broke recently in the Indo-Pak matches. London Sports is much more accessible in Bombay Bazaar.
Caution : Never pass by Dilli Chole Bhature walla( on Abu Lane ) or Pinki ( Boundary Road ) at any time you will forget what you set out to do and start eating Chole Bhature. The chaos is as amazing as the taste.
Electronic Blood Pressure Meeters : Seena Surgical & Rehbilitation at Khair Nagar , Hoj Wali Masjid, 9319042529,9319956585.
Spoken English : Taught by an American Lady . Contact Mrs. Christine Goel . 4/3/ Raksha Puram , Mawana Road. Tel: 2620210 , 9897292437. Bindals - The new shop has to be biggest floor space devoted to clothes you have seen in the region and that includes Delhi area.
And if you are not living in Shastri Nagar take a look there sometime. That is another story. Full of palatial houses, but as usual the Government supplied infrastructure 'could bear improvement'.

Hi ! Do write back with reactions /suggestions /objections...


Other Pages


Books , articles , documents linked on this site : Macaulay's speech regarding a fund meant for upgrading India. , Macaulay's Complete text on Clive - very readable. You can even download a PDF file and print it. , A letter (2003) from a cantonment official to a resident of the cantonment quoting a 19th century East India Company document - the Old grant , Some idea of the state of Britian in Early 19th and late 18th Centuries , A viewpoint about the Mutiny - Ashok Nath , Extract from the Gazette of Meerut of 1903 , British trade at the peak of colonialism - Jeremy Seabrook , Imperialism begins at home - Jeremy Seabrook , Extracts from Macaulays text on Clive with reference to the Mahrattas , Inscriptions on the Mutiny memorial on the ridge at Delhi , Text of the Old Grant also CGO 179 ( CGO=Council General Order) , Rambles & recollections of an Indian Offical ( 1836 text - W. M. Sleeman) , The fall of the Mughal Empire in India , The Coronation Durbar of 1911- the Last , Site about a feature film by Charles Urban covering the 1911 Durbar , Of lavish Durbars and famines , About East India Company and Victoria's Empire , For those curious about Royalty , Delhi Railway museum leaflet , Sir Saiyyad Ahmed Khan's speech at the Nauchandi fair on March 14th , 1888 , An account of the attack on Vellore in Gillesspie's own words , A description and comparison of guns / muskets about 20 years before the mutiny , About the British East India Company( almost all European nations had East India companies) , About the Company rule and money collection methods in India , the main reason for their affluence and glory , Another well informed discussion on 1857 - Part 1. ,Part 2.




Search this site