Begum Pul, Collectrate Meerut .. 5
May not look right in Netscape and AOL Browsers. Press F11 for a better view.
---

Last updated - Saturday, 02-Sep-2006 02:08:25 EDT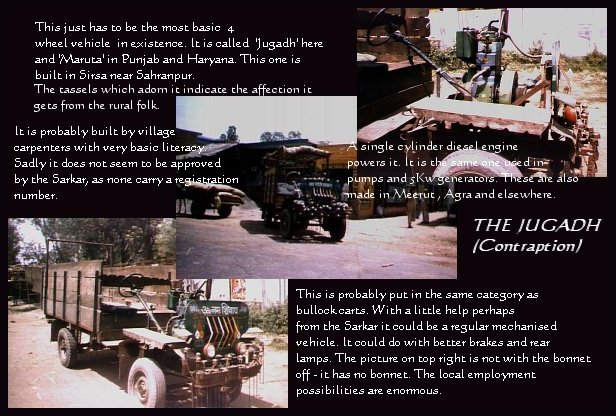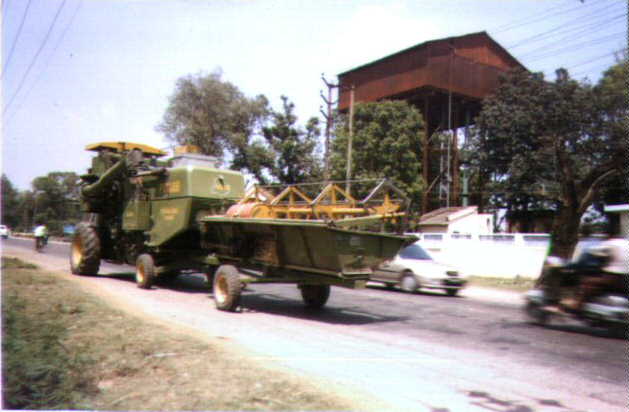 This is a harvester combine. Another "business". These are usually rented out. However not many of these are owned locally. This one came from Punjab and is headed back via the Kairana Bridge ( to cross the Yamuna ) into Punjab. Charges are I believe by the hour. This one is made at Mohalli by Punjab Tractors Ltd. Completely indigeneous. This is a rear view , so you can't see that all these grand machines carry a motorcycle in front. Why ? Well would you use this monster to go buy bread and butter from the friendly neighbourhood bakery , or post letters ?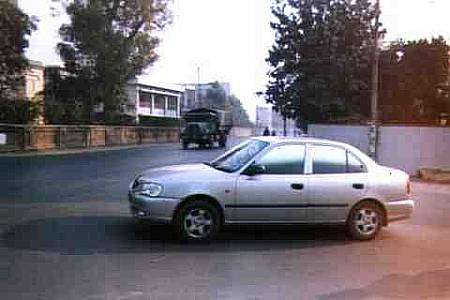 Keep mouse at right of the item in the list below for about 5 sec. to see the picture change.
Church Crossing.
Begum Bridge I.
Begum Bridge II.
Wedding Lights.
Collectorate.
Some vehicles on Meerut roads , a Hyundai Accent in the foreground, and a Shaktiman (Military Vehicle) in the background.
This is BEGUM PUL. Begumpul is the centre of Gravity of Meerut. Another is Ghanta Ghar about 2 km to the South East. That is where the real Meerut lies - the walled city.
Don't recognise BegumPul ? Vast empty spaces in the pictures no standing space in real life? Well the explanation is this - a number of souls have checked out of this world for a better one here at BegumPul. Their souls never leave, they keep returning to understand how the most important event of their lives happened in this place.
This also serves as the town square for people from the rural areas seeking daily employment. The Ghanta Ghar area in the city serves the same purpose. You can find gardeners, carpenters , masons and other workers here.
Note: If you drive down from Delhi to absorb the ambience of a small town, just stay away from BegumPul. You will soon yearn for the serenity of Karol Bagh or New Delhi Railway station.

Wedding lights in preparation for a wedding procession. Just a little over a decade back they used to carry gas lamps. Now a fair sized generator accompanies these lights which precede or follow a wedding procession.
The 'Collectorate' - Office of the Commisioner/Deputy Commissioner?. Seems alive only when hordes of village folk from nearby come to complain. Otherwise it is largely meant for 'internal use only'.The word 'Collectorate' harks back to the East India Company days, when an enormously complicated 'Settlement' system was used to assess area of land and 'collect' the assessment levied by the Hon'ble Company - not much was given in return except for a police station. This was during the period the Company was trying to behave like a Government. Close by is the old 'Settlement office' now housing some other nondescript Public Office.

Hi ! Do write back with reactions /suggestions /objections...


Other Pages


Books , articles , documents linked on this site : Macaulay's speech regarding a fund meant for upgrading India. , Macaulay's Complete text on Clive - very readable. You can even download a PDF file and print it. , A letter (2003) from a cantonment official to a resident of the cantonment quoting a 19th century East India Company document - the Old grant , Some idea of the state of Britian in Early 19th and late 18th Centuries , A viewpoint about the Mutiny - Ashok Nath , Extract from the Gazette of Meerut of 1903 , British trade at the peak of colonialism - Jeremy Seabrook , Imperialism begins at home - Jeremy Seabrook , Extracts from Macaulays text on Clive with reference to the Mahrattas , Inscriptions on the Mutiny memorial on the ridge at Delhi , Text of the Old Grant also CGO 179 ( CGO=Council General Order) , Rambles & recollections of an Indian Offical ( 1836 text - W. M. Sleeman) , The fall of the Mughal Empire in India , The Coronation Durbar of 1911- the Last , Site about a feature film by Charles Urban covering the 1911 Durbar , Of lavish Durbars and famines , About East India Company and Victoria's Empire , For those curious about Royalty , Delhi Railway museum leaflet , Sir Saiyyad Ahmed Khan's speech at the Nauchandi fair on March 14th , 1888 , An account of the attack on Vellore in Gillesspie's own words , A description and comparison of guns / muskets about 20 years before the mutiny , About the British East India Company( almost all European nations had East India companies) , About the Company rule and money collection methods in India , the main reason for their affluence and glory , Another well informed discussion on 1857 - Part 1. ,Part 2.




Search this site