More.. The big Banyan Tree at Company Garden,
Razais at Begum Pul - 7
May not look right in Netscape and AOL Browsers. Press F11 for a better view.
---

Last updated - Saturday, 02-Sep-2006 02:08:02 EDT

This is a real palace except that it now houses a non-descript Govt. Office - something to do with fertilisers. It was built by the Nadir Alis perhaps in the 1930s. However it was never occupied by the owners for not very well known reasons. It is in a pathetic state. Torn blinds, cracked walls worn out woodwork. Near Nauchandi grounds.
Sophia school gives over . Its a cold sunny winter afternoon ( about 2pm ).

A very large section of people in Meerut is self employed. It would be difficult to make a full list of businesses. They are in the wedding business. They also repair Generators. And there is a FIITJEE coaching centre in the premises. This is during the peak season - November to February . During the off season the number of generators parked here is twice as large . The generators provide the lights for the Shamianas ( colourful tents ), the government provided electricity( ..and everything else :) ) being extremely unreliable . You may make out a worn out fifties Studebaker. Just a few years back it was still being used in weddings as a carriage fit for a king , with bright red seats and shiny chrome. ( Now gone ). Corporate presence is not completely missing here, it is just that it is not very dominant. Corporate type culture can be witnessed in Government and Army Offices ( 19th century vintage) and in Banks and other regional offices.
Ownership of cars has grown exponentially in the last 16 years ( since 1984 after the advent of the Maruti / Suzuki ), but the ratios are still miserable even compared to other developing nations , and ownership perhaps stands at 1 car for a population of 200 ( correct figures anyone ?). Can you believe it? Less than 0.7% of the population has cars - yes, this is 2002. It is not all bad though, Delhi has the largest number of cars in the country ( they say the number equals the rest of the metros combined ) and if you are on the road there may God bless you.
The Banyan tree in Gandhi Bagh ( Company Garden ) on the road to Muzaffarnagar, Roorkee, Dehradun, Mussoorie. There are a large number of Banyan trees here, as in all old towns. There is something sacred about Banyan trees to us. In fact one of the Ashokan Edicts includes a decree mentioning that Banyan trees along with wells, mango groves and serais ( Taverns ) should be planted every 8 kosas ( 1 Kose is about 2 and a half miles ). What many of us from older towns cannot bear in newer inhabitations is the absence of large shady trees, leave alone Banyans ( Bargat ka paydr ). There is a superstitious reverence surrounding these which is not easy to communicate to a westerner. However it may be very much along the same lines as the adoration which the Americans direct towards their celebrities and the elevation the British bestow on their Royalty. Who would you elect to worship, trees mountains and rivers or Prince Charles ?
(Note:The tree is probably as old as the cantonment - 1806. )
Here is some text from William Dalrymple's The City of Djinns
. ...Hindus revere nature but never feel any need to marshal or mould it into a design of their own: a banyan tree wiil almost be encouraged to spread its drooping creepers into the middle of any village market, or to block any backwoods track. It is revered for itself ; however it develops , that end is regarded as a sort of perfection. As in nature so in architecture: Hindu palaces seem to grow organically of their own will; a hall here a shrine there, a sudden inexplicable curve in the curtain wall somewhere else.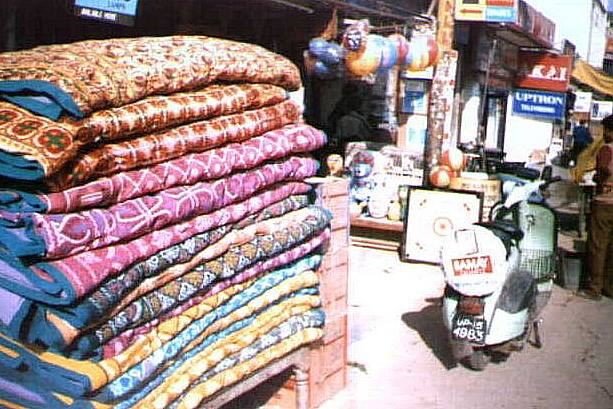 Early December. It is beginning to get cold and that is when the Razais(quilts) come out. This sight could kill between May to September. Better visibilty means better sales.



Hi ! Do write back with reactions /suggestions /objections...


Other Pages





Books , articles , documents linked on this site : Macaulay's speech regarding a fund meant for upgrading India. , Macaulay's Complete text on Clive - very readable. You can even download a PDF file and print it. , A letter (2003) from a cantonment official to a resident of the cantonment quoting a 19th century East India Company document - the Old grant , Some idea of the state of Britian in Early 19th and late 18th Centuries , A viewpoint about the Mutiny - Ashok Nath , Extract from the Gazette of Meerut of 1903 , British trade at the peak of colonialism - Jeremy Seabrook , Imperialism begins at home - Jeremy Seabrook , Extracts from Macaulays text on Clive with reference to the Mahrattas , Inscriptions on the Mutiny memorial on the ridge at Delhi , Text of the Old Grant also CGO 179 ( CGO=Council General Order) , Rambles & recollections of an Indian Offical ( 1836 text - W. M. Sleeman) , The fall of the Mughal Empire in India , The Coronation Durbar of 1911- the Last , Site about a feature film by Charles Urban covering the 1911 Durbar , Of lavish Durbars and famines , About East India Company and Victoria's Empire , For those curious about Royalty , Delhi Railway museum leaflet , Sir Saiyyad Ahmed Khan's speech at the Nauchandi fair on March 14th , 1888 , An account of the attack on Vellore in Gillesspie's own words , A description and comparison of guns / muskets about 20 years before the mutiny , About the British East India Company( almost all European nations had East India companies) , About the Company rule and money collection methods in India , the main reason for their affluence and glory , Another well informed discussion on 1857 - Part 1. ,Part 2.




Search this site