Some lights are already up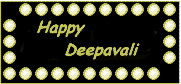 It is possible that you don't know that there is more to the Diwali lights than just lights. How much area is lit up? Is there no area illumination up? These indicate the mood. If the economic outlook is not very bright then no lights are put up at all. Sometimes they are not put up even if there is a death in the family of one of the shop owners/keepers. Most of the shopping gets done before Diwali. When the lights are on in their full Grandeur then people just walk around as if in a Mela. Who provides the Electricity ? Generators of course. Not many towns have such widespread illumination, I understand Karol Bagh in Delhi comes close.
The weather could not be better. Not more than 35 in the day, and 15 - 25 the rest of the time.


October 19th No parking place in Abu Lane no parking place in Abu Plaza Traffic Jams everywhere. What's up ? Pre Diwali shopping.. This time there are lights where none were put up before. All signs of an upbeat mood. Of course the first place everyone goes to for clothes is Bindals . Wonder what the advertising fraternity would say about this phenomena. They barely advertise, they are situated in a narrow lane off Abu Lane, and if there is standing space on a normal day then that is an indication that all is not well with this area's economy. A new Brand name shop called "Buddy Davis" has opened up at Abu Lane. The advertising says "Buddy Davis here is where are you ?". For once you could believe the advertising. There was not a soul to be seen inside.
---
Read previous ones
September, August, July, June, May, April, February , January ,
---