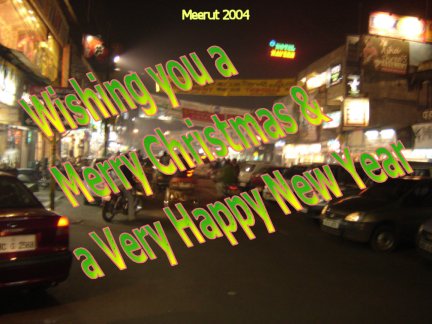 Christmas New Year Gifts?
Think in terms of something which will keep the young occupied in the spare time. What about
Digital Camera.
A Good Casio or Yamaha Keyboard.
A Computer if you don't already have one.
Chrysanthemums at Cheetal Grand
Seeing is believing.. Don't know where is Cheetal Grand? At Khatauli. About 50 km from Meerut towards Mussoorie. About 40 mins drive on a crowded highway.
Old MacDonald comes to town
And once there was a shopping mall called PVS in Shastri Nagar. And it was a shopping Mall with a few Viewing Rooms. But it did not bustle with activity. And then... and then MacDonald opened a few weeks before Diwali. From then on it is no longer a mere Shopping Mall. It has become the heart of the town.
Is the Pen mightier than the Sword?
Depends in whose hand it is..
I refer to the PM's speech in Kashmir. Are there still people who think that India could have or has had a better leader? General economic uplift is really the best cure all known even for terrorists and militants. And maybe this could even lead to reducing the stupendous Defence Budget.
Letter from the UK
From Andrew Dunwoody
Hope he scans the pictures soon


Andrew Dunwoody  wrote:
From: Andrew Dunwoody 
Subject: Mustafa Castle
Date: Sat, 6 Nov 2004 14:33:21 +0000

Hi,

I have recently found some photographs that belonged to my Grandfather 
who was in the Royal Army Pay Corps in the second world war. He was 
based, I assume, in Meerut during 1944 and I have about 200 
photographs, one of which is Mustafa Castle taken in July 1944.

I have attached it so you may wish to use it on your website.

If you have any information regarding the British Army in and around 
Meerut I would love to hear from you.

Eventually I hope to have scanned all the pictures in and will feature 
them on a website. I'll let you know the address when this is finished 
as you may recognise some of the places so I can put names to them.

Kind regards

Andy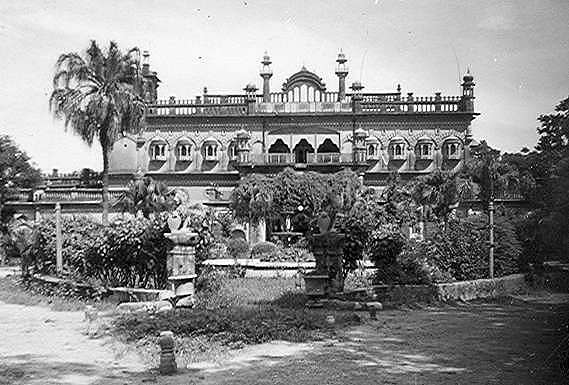 You will agree that this is very timely as Castle View just got inaugurated this week.
Diwali is here(and gone)

One festival which really
spreads the feeling of brotherhood
without regard for caste creed or religion
and without the help of clichés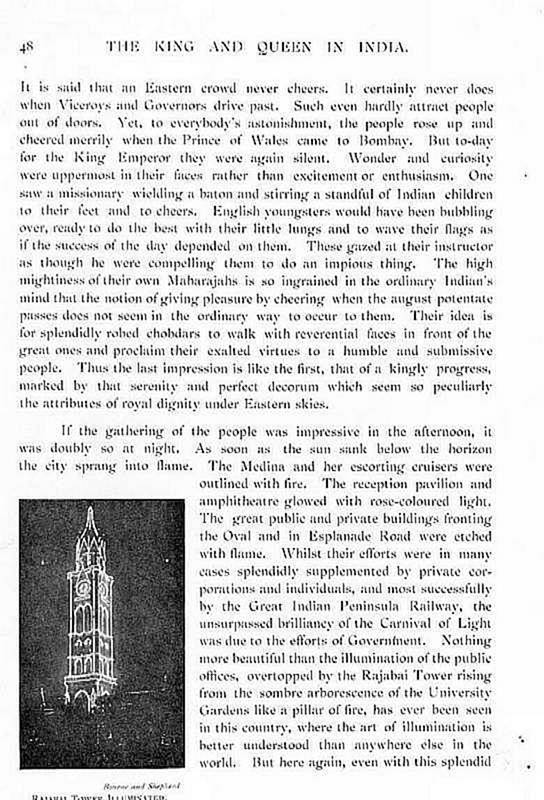 So many of us who are not dead yet will remember Divali was far more exciting in the Diya days. Divali was better without Electricity ? Well it spread a lot of excitement among children and gave them something to do to keep any lamp from going off. You may be reminded of the Moral Rearmament song " Give me oil in my lamps to keep them burning".
That said - take a look at this . The Rajabhai Tower in Mumbai Illuminated with Electric lamps. So what's so special about that ?. Well the year for one this is December 2nd 1911. This is not Divali this is a special occasion nevertheless. Perhaps just a little less important than August 15th, 1947 for Colonial India. This celebrated the arrival of King George to India for what is called the Coronation Durbar on the 12th in Delhi. Two extremely important events took place at the Durbar . The British Capital shifted to Delhi from Calcutta. AND we got a disease called the "Income Tax" ( almost a year before the United States ).
A few more days and you can see never seen before on the Internet amazing photos of the great Coronation Durbar of 1911. An event many may have heard of but could not visualise - until now.

It is ready now ( almost) . Click here. Or here Another location..


Read previous ones
August-November, May,Jun,Jul,Aug, Feb,Mar,Apr,May, Nov,Dec,Jan, October, September, August, July, June, May, April, February , January

---
Read previous ones
April
April
April
April
April
February
January
---