Sunrise/Sunset for 12th January 2007: Specifically for Meerut . Twilight start - 6:49am Sunrise - 7:15am Sunset - 5:43pm Twilight end - 6:08pm.
Possible cut in Excise on Fuel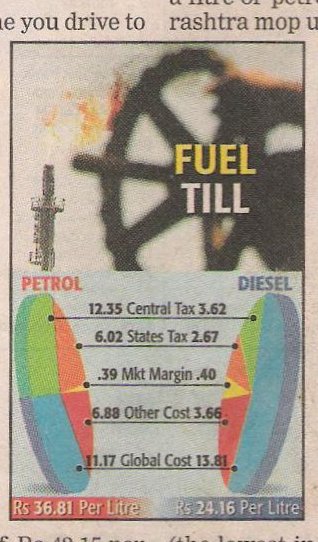 We must be grateful to the Government ( at the instigation of Sonia Gandhi ) for getting a small drop of our money back. This is from the Times of India of 8th August 2004 when Diesel was around Rs. 25/- Petrol Rs. 36/-. Of course our Government employs some very clever people. Rs. 5/- up. Then 25 paise down. And we are supposed to clap. Within 2 years prices are up a 50 whopping percent!! Check the pie chart carefully . The chart is from a news item by Soma Bannerjee and unlikely to be inaccurate. Soma Bannerjee is a specialist about Oil related matters. Are we still a backward country where oil is a Luxury item?
And here is a far more interesting topic for meditation. Let us say the current cost of petrol is Rs. 25/- . And all the taxes add another Rs.25/-. That is 100% taxation. It is 50% of what we pay at the pump. The international price is determined by all sorts of factors and beyond our control. Now suppose that increases by Re. 2/-. An innocous percentage sign sees to it that we pay Re. 2/- to the Government too. In effect doubling the quantum of increase. Why ?
Petrol Prices in the US
Per gallon

Santa in Meerut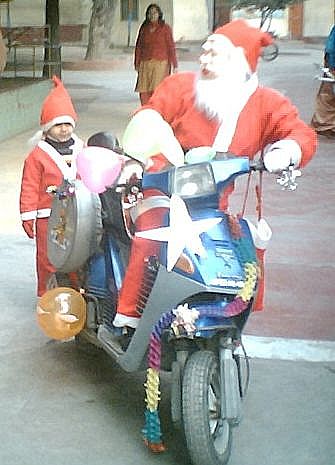 Thank God we could catch Santa on a scooter. The thing is the traffic police caught him on Dilli Road as he was entering and booked him under the Motor vehicles act of 1935. They did not have reindeer run vehicles in those days. An understanding passerby lent him his scooter. The Reindeer and sled are parked under the flyover in case you want to take a look .
30th November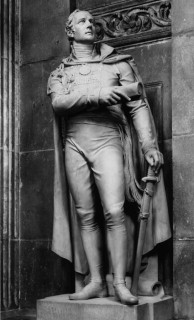 On the 30th of November 1814. The Battle of Nalapani was .... abandoned by the brave Gurkhas. It was not lost. They faced at least 4000 EIC soldiers initially. They could not stand up to the organisational and financial might of the East India Company. They could not not reinforce, they could not replenish , their water supply was cut off. This was the first Gurkha war. There were just 700 hundred of them and that included women and children ( only 70 survived ). They were also not merely soldiers. Everyone carried a Khukri by tradition. That does not mean they turned up their noses at cutting wood and doing other daily survival duties. When ammunition ran out they threw logs and stones. There were some full-time soldiers ( between 100 - 400). Typical of East India Company records the figures always conflict.
No this battle is not a forgotten one, not in Nepal. Perhaps many in the Indian Army are also aware of it. I feel it deserves wider awareness. Search the net for "Battle of Nalapani", " Battle of Kalunga" ,"Balbahdur/Balbahdra Kanwar". An amazing amount of detail from letters written during the 5 week long battle/siege is available. Credit for translating the letters and other documents into English goes to 20 years of work put in by the Regmi Research Foundation ( initially started without any funding ). Nalapani is on Raipur Road in Dehradun. About 4 km from the Clock Tower.

Oh Yes . That is Gillespie's statue on the right, in St. Paul's Cathedral in London . Installed by an act of the British Parliament. He was the first to confront the Gurkhas in the widespread invasion of Nepal. He was shot by a Gurkha marksman through the heart on 31st of October one day before the invasion was offically flagged off ( November 1st). His grave is in Meerut.
A visit to the place is really enlightening. If one did not know of the ghastly crime committed there. One would percieve it as a place of worship and meditation. Locate the gate with Balbahadur Kanwar and Kalunga written . You will come across one temple and then the Tapovan Ashram. If you have a motorcycle fine, because nothing short of a four wheel drive will go further. Tapovan by the way has been a sanctuary for hermits and sages since time immemorial. As you go further up the feeling of going from the sublime to gross evil should not escape you no matter how rational or scientific a human being you are.
*So an army was based here? Not likely, these were everyday Gurkhas who would fight with everything in their being to retain their beloved land. Reading and re-reading texts show that there may have been about a 100 to 400 hundred full-time soldiers ( against 4000 !! ). This also gives an inkling to a much broader picture. How ghastly crimes can be committed in a bulk ( corporate - from corpus - if you wish ) environment, and it is done with a job is a job attitude, all in a day's work. The survivors of Gillespie's mob must have celebrated Christmas with great vigor a month later in Meerut. With a reawakening Nepal does this mean that that there will be another half-centuy of border disputes. Hardly the word 'border' already has a medieaval ring about it - thanks to the Internet. We may never become a European Union. However, at the very least, now, many are willing to consider a border as a pragmatic and administrative national outline without the egoistic colouring associated with the rule of petty Kings.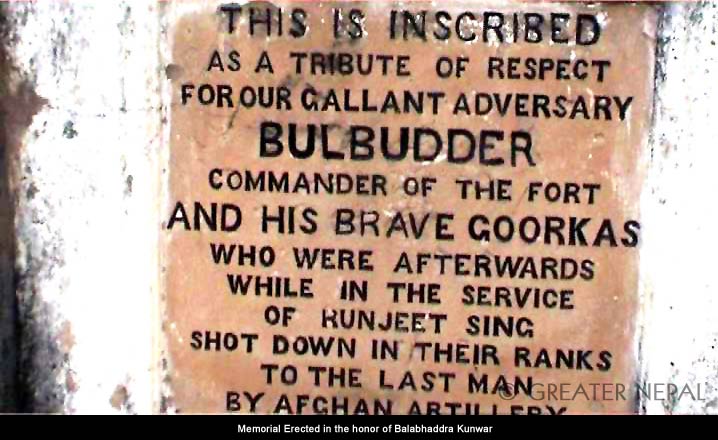 Just a few pages from Regmi Foundation's painstaking work. Note : You will find files in PDF format , Tiff format as well as Ms-Word Doc format. There are differences between the DOC format files and the other format files. Word files are in text form so can be used in other documents. The others are images of typed manuscripts.
The Power of the Net : This site was started in Jan 2001. Around that time I put up a picture of Gillespie's grave in the St. John's Cemetery. I was a little curious about both Gillespie and Kalunga. So maybe you can imagine my thrill and amazement at finding so much detail. Which I feel I should have got from a textbook. Information Technology Zindabad !!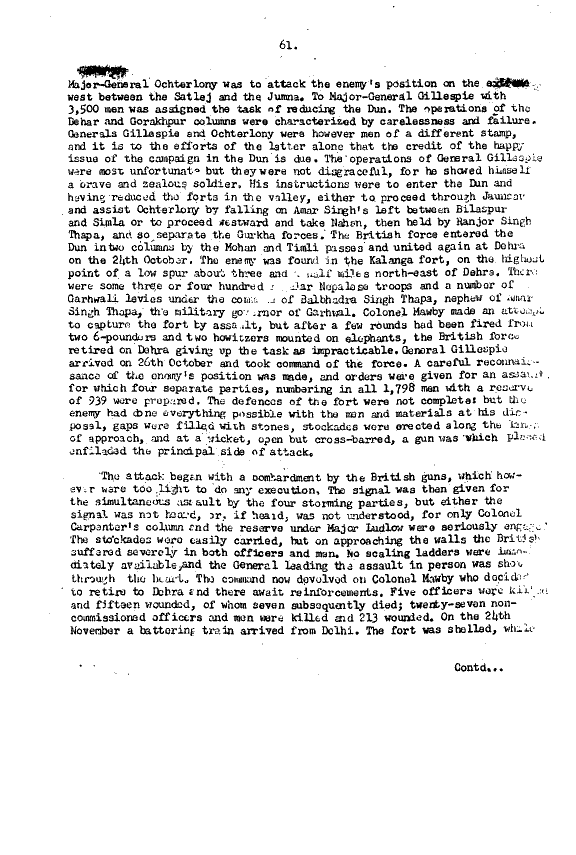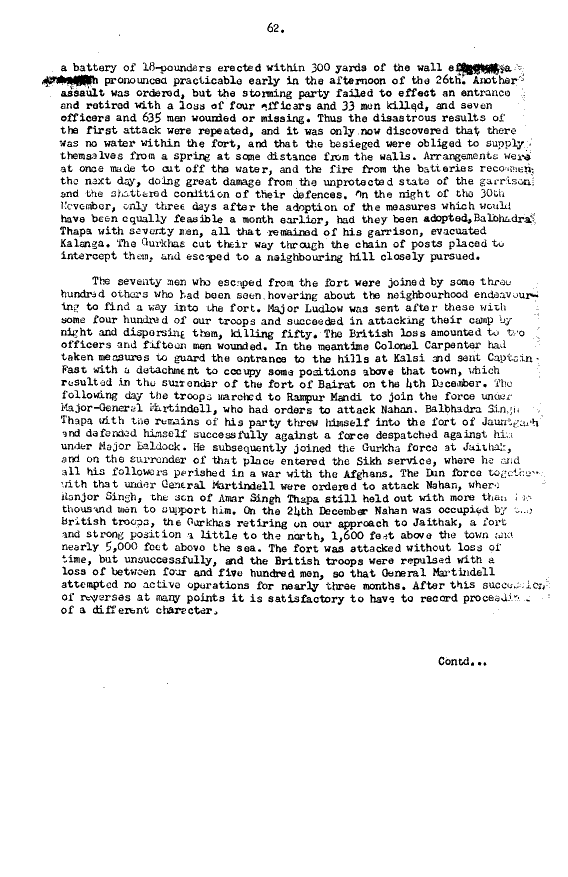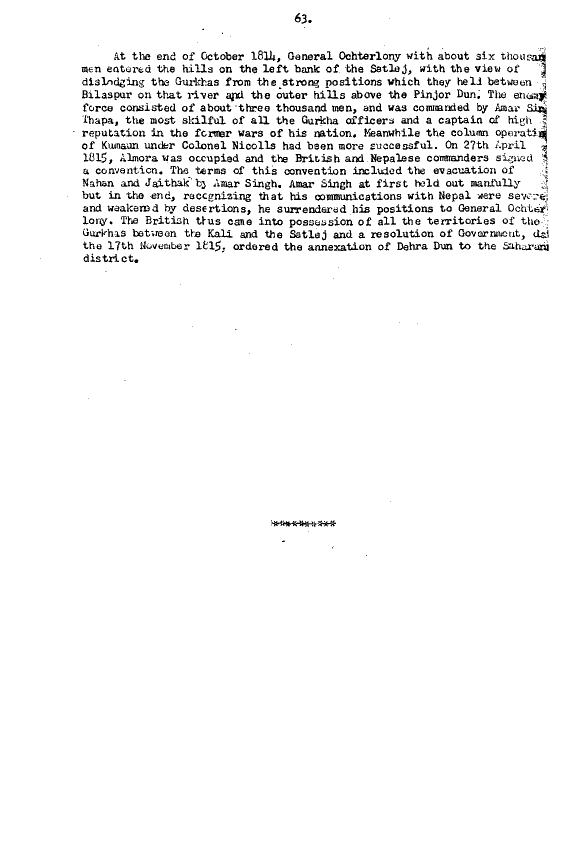 Happy Children's Day !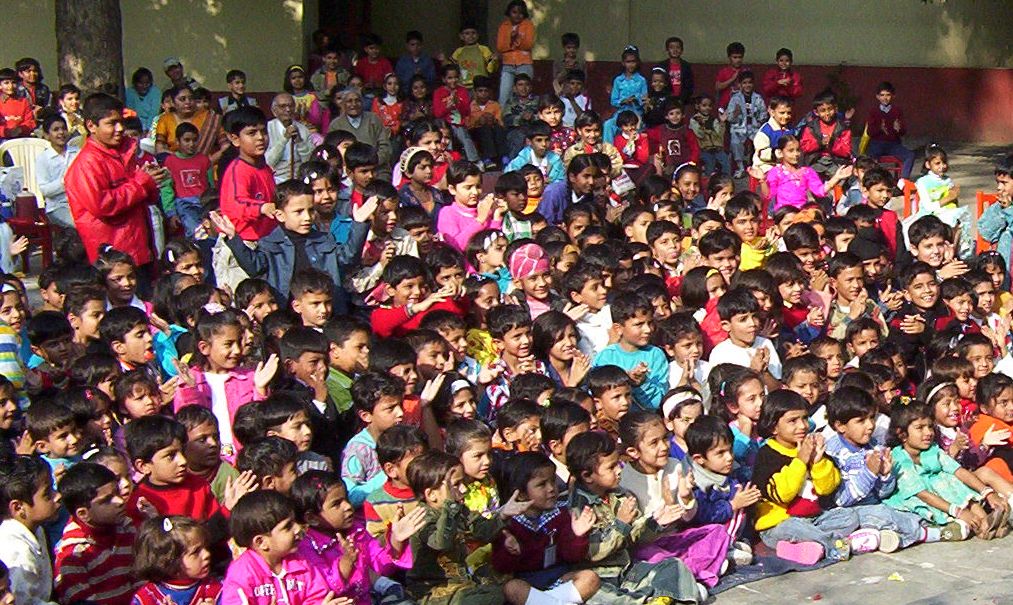 Animated faces at a magic show. Ever seen them like this in front of TV? And you were worried that the parade of dumb Stars, Super Stars, Celebrities may have made them into zombies? Something to note - not one child is wearing glasses. An observation one cannot make of children in Metro schools.
A valuable email from Luke
The email below was in response to an inquiry about a section I have on this website relating to the Dilli Durbar of December 1911. When the decision to build New Delhi was taken. You can visit that here.
Dear Anil,
There are no films of the 1911 Delhi Durbar (or that of 1902) available on video, DVD or any other commercial format that I know of. As I said in my last email, there are several original black-and-white films of the ceremonies, which are held by the British Film Institute (www.bfi.org.uk/archive). These films are as follows (with the name of the company that made the film given in brackets):
OUR KING EMPEROR AND QUEEN EMPRESS HOLD A DURBAR IN DELHI (Barker Motion Photography)
KING GEORGE V'S CORONATION DURBAR AT DELHI (Path)
KING GEORGE THE FIFTH'S DURBAR (HELD TO PROCLAIM HIM EMPEROR OF INDIA) (Warwick Trading Company)
DELHI DURBAR - A CINEMATOGRAPHICAL RECORD OF THE MAGNIFICENT AND HISTORICAL CEREMONIES OF DECEMBER 12TH, 1911 (Gaumont)
Each of these films last no more that ten minutes. Some parts of the Path&eacute film are available to view and to download for free from the website www.britishpathe.com. This site makes the whole of the British Path&eacute newsreel archive available for free (you have to register beforehand), though the pictures are of a low resolution quality, which is frustrating if you want to see any detail. Just type in "delhi durbar" into the Search box on the front page and several titles will come up, with stills so you can see what they're about. Only one I think is specifically the film of the Durbar, and you'll find it easily enough.
You could write to the BFI and ask for a video copy to be made of the films, which they could do assuming any copyright is cleared, but it is expensive to have this done (I can't say how much, but a lot more than videos or DVDs in the shops, because they are making just a one-off). Were you at all interested, contact Shona Barrett at the BFI (shona.barrett@bfi.org.uk), citing the titles as I have given them above. Were you to choose just one of them, the Gaumont film is probably the best.
The colour film of the Durbar, all that survives of Charles Urban's great epic, was found a few years ago in a film archive in Russia. The sequences lasts about ten minutes, and section were featured in a British television series THE BRITISH EMPIRE IN COLOUR. You can buy this on DVD, from this link:
THE BRITISH EMPIRE IN COLOUR Please note that the colour sequences do not show the main Durbar ceremonies, but only a the royal review of troops a day or two later (which alas is a bit dull, even if it is wonderful that it has survived. You can see a frame still from this film in an online article that I wrote a while ago, here (the picture is on page 2):
(the article is called A Short History of Film Archiving, and you'll need PDF software to be able to read it).
Early film history is my expert area, so I'm happy to provide information in whatever way I can.
All the best
Luke
**********************************************************
Luke's Website

---
Kleptocracy
Did you know that there is a word in the English Language for Governments characterised by rampant greed and corruption? I didn't. It is called - well that is in the heading. As expected it is not in the Concise Oxford dictionary. I found the meaning by searching Yahoo Reference. It is in the American Heritage Dictionary of the English Language. (And yes did you know you can get the pronounciations of words too at Yahoo Reference?) Where did I come across this word? A news item about how Azerbaijan is flush with Oil funds
A Post card from the past ( 1930s ?)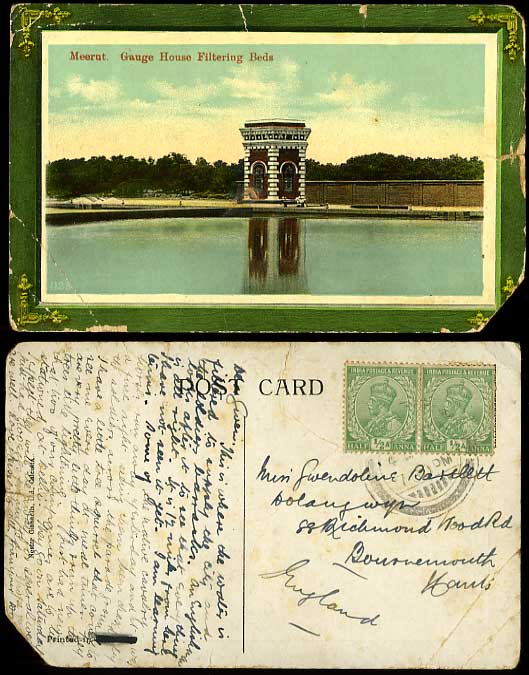 Most of life now has a price tag. Not the Internet. In fact there is so much free stuff, that one cannot even give credit when one needs to. I found this picture postcard sometime back. Now I cannot locate it again, I dont even know where it came from . The text makes interesting reading. A whiff of the daily life of a British Army wife.

Dear Gwen,
This is where the water is filtered to supply the city and the soldiers barracks. An Englishman looks after it to see that everything is all right. It is 12 miles from here . I have not seen it yet. I am learning tennis. Some of the native cavalry horses ran away yesterday and it was a fine sight seeing them being chased by the soldiers across the parade ground . I have a little squirrel that comes to see me everyday at meal times. They are very pretty little things and run up the trees like lightening. I have just had news that two of our companies are to be stationed at Delhi . They go in Saturday . I expect they will be away for a while.
I hope all is well,
Love (...........)


Garam Chai / Thanda / Bread Pakora ?
Or Omlette ?
The heat has not vanished but hot tea has started tasting OK again . This is a dhaba somewhere between Meerut and Dehradun. Why does everything taste better out in the open when the weather is good and everything is all green ?