THE MEERUT SCRAPBOOK
- Meerut Pictures
Pictures on this Page: 3 Use PageUp/PageDown Keys. E-mail at Bottom.
Last updated - Monday, 15-Jul-2002 05:21:33 EDT

---
The URL here is http://anilbh.tripod.com/meerut/index.html. An easier way to reach here is to search Google for "pictures of Meerut".
- - -
Some recent local news...
---
Meerut Latitude : 29.0 deg N, Longitude : 77.5 deg E.
Read previous ones:
Apr 10 to Apr 11,Dec to May 10,May to Dec 09,January to May 09, July 08 to January 09, November 07 - July 08, April- October 2007, Jan to Apr 07,
Oct06 to Jan 07, May 06 to Sep06, Mar to May 06, Nov to Mar 06, Sep to Nov 05, May to Sep 05, Feb to May05,
November to Feb05, Aug-Nov04, May,Jun,Jul,Aug, Feb-May04, Nov - Jan04, Oct03,Sep03, Aug03, Jul03, Jun03, May03, April03, Feb03, January03

Season's Greetings
Cantonment Board Meerut strikes again
Many residents have received letters increasing their house tax by not just a few per cent but by more than 300% . No grounds given only a time period for objections. The increase in tax is entirely arbitrary and certainly never improves facilities. The drains are choked even the main one called 'Abu Nala' which prevents the smaller drains from flowing. Roads broken. Electricity erratic. Municipal services barely tolerable. By the way the tax is based on rental value . Rental value of purchased property? Used by the owner? That is why we are called Incredible India. And what is a the rental value of at least one place? Over 31 lakhs of Rupees!! Increased to over 100 lakhs. Nobody has ever received anything in return for these exorbitant Taxes. Forget the fact that nobody in Meerut can pay that kind of rent. In the late 90s the tax was of the order of a few thousand Rupees now it is in lakhs ( 1 lakh=100,000).
Greetings for the festive season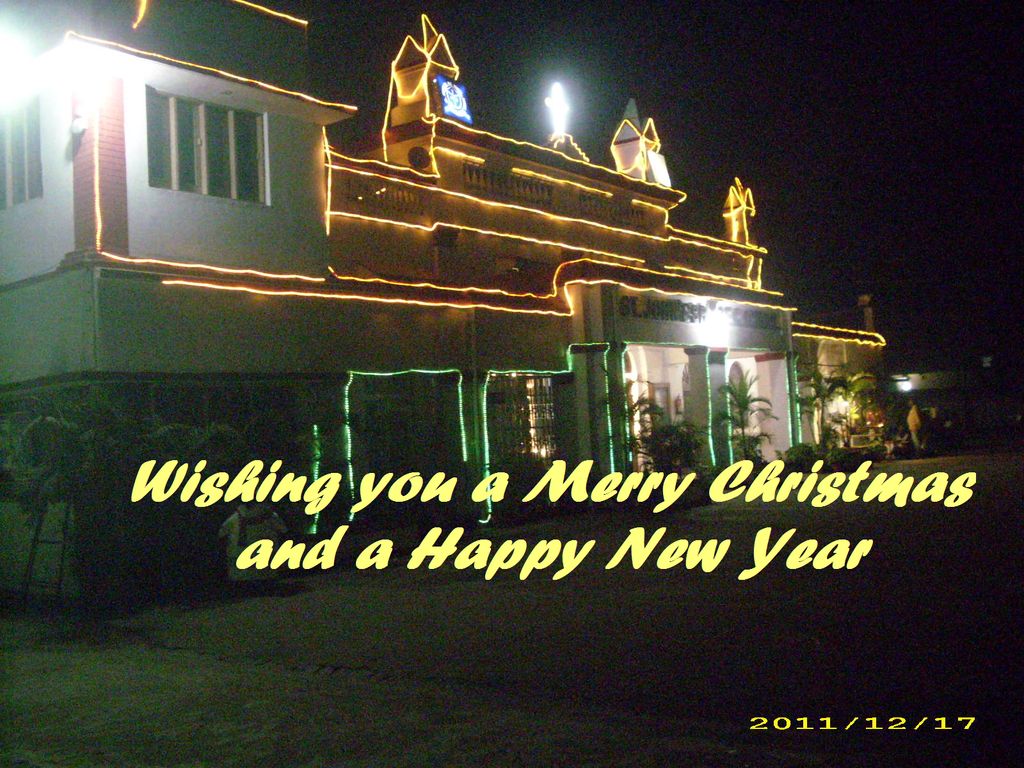 Want to see where Santa is right now ? Click here.
May 10th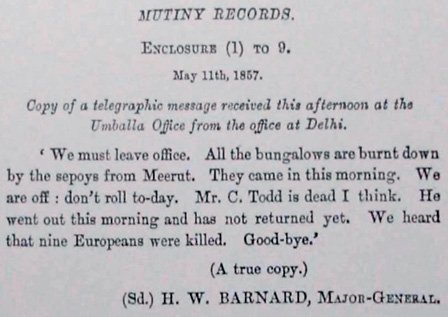 Is called Shahid Divas now. The Gaddar started in 1857 on the 10th of May 1857. The transcript of a telegram sent from Delhi to Ambala is on the right.
Things to note about the 'Sepoy' Mutiny. Indian Soldiers were called Sepoys. Every Sepoy came from a farming background and knew the indignation which was widespread in the rural areas regarding the East India Company 'Taxes'. These were collected with European efficiency and were accompanied with penalties which Indian Rajas and Maharajas never implemented. Land could be and was confiscated for non payment. A small booklet was published in 2007,(it was available on the Mutiny train ) and gave a short list of some of the bigger conflicts between the rural population and the East India Company Army. They happened from the 1760s to late in the 19th century. Yes much after the Mutiny.
The walk to Sardhana
Takes place in the first week of May every year, not sure if it is always 7th May. It is a a penance activity. Meaning a certain amount of suffering is to be expected. A good assumption since things are heating up around this time of the year. However today(7th) it will be different the weather is actually pleasant since it rained in the evening. You may know that Sardhana has a Church built by Begum Samroo in the early 19th century. The distance from the Catholic Church here is a little less than 20 km. They start after 10 pm.
Some Pictures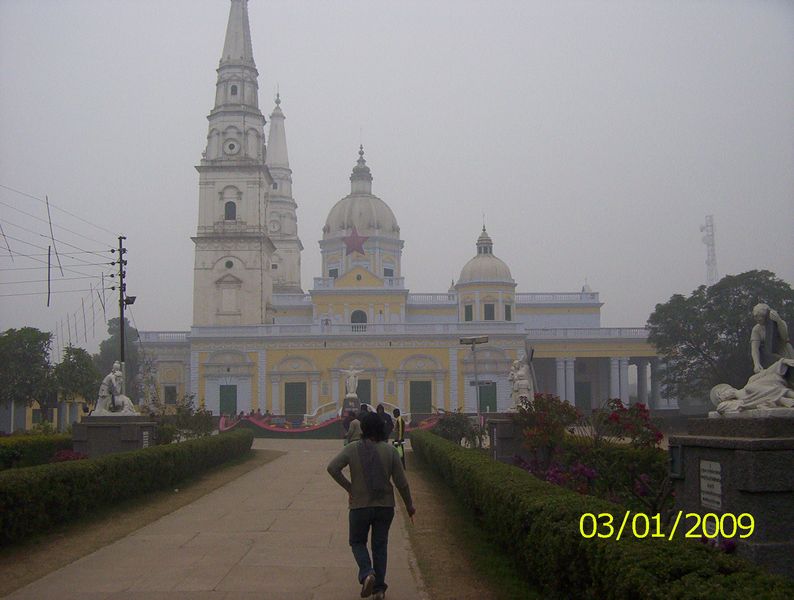 You can see a Cellphone tower in the picture. I am not sure what is the state of the Electricity here. Did not see a water tank. So assume there is not tapped water in the area. In many ways things maybe worse than the early 19th century as the population is much more!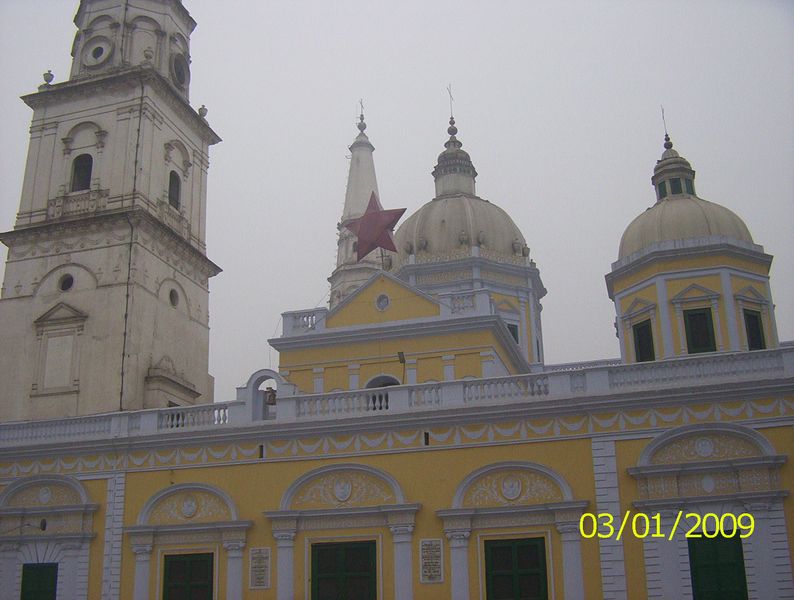 The usual route from Meerut is via Kanker Khera, avoid this as 80% of the road does not exist. Has been like this for months. Go via Daurala longer but much better road.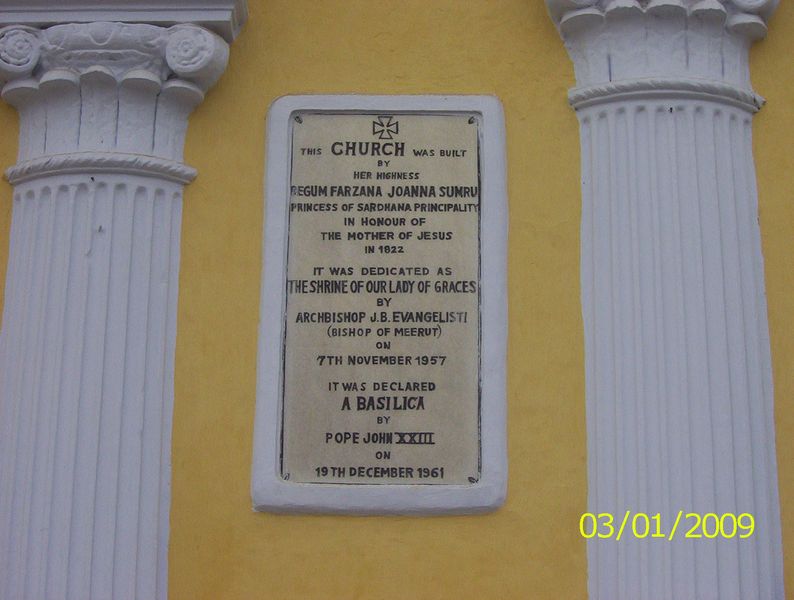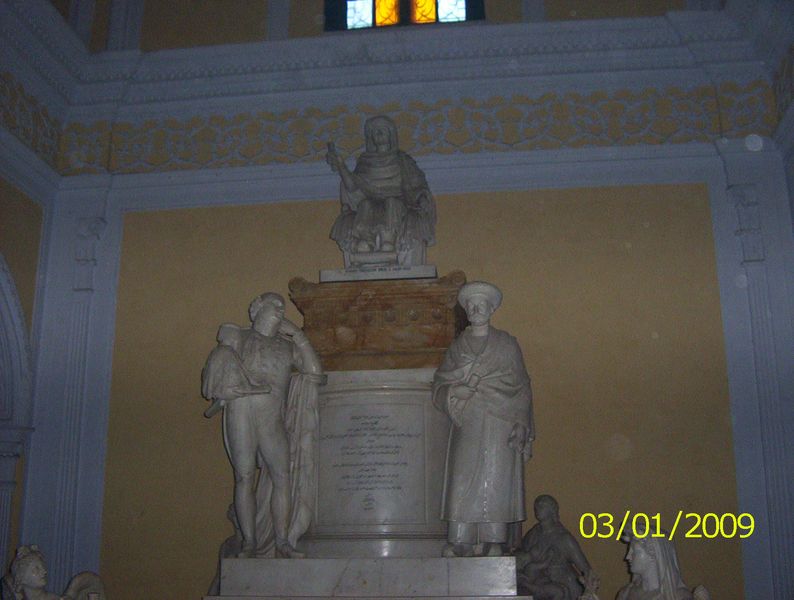 Could be the largest block of carved marble in India. Made in Italy. Reached when there were no trains and trucks.
A recent event
Somehow forgot to post this. Really of interest only to Cantonment residents. On the 20th of September 2010, a news item appeared in the Danik Jagran stating that the oldest school in the Cantt. - St. John's - was going to be put up for auction on October 4th. Along with this some other schools were mentioned as not having paid up varying amounts running into lakhs. At least one school City vocational deep in the Cantonment was left out. Included in the amount St. John's was expected to pay was something called a Water Tax and the school does not even have a water connection. The other amount was a colossal House tax. The taxes are supposed to help in maintaining the cantonment. Take a look at the Abu ka nala near Bombay Bazar and the bridge over it. The bridge has been an eyesore for decades. Not a sign of maintenence. No St. John's was not auctioned. The point to note is that the Principal never even got a notice. The school is walking distance from the Cantt. Board Office. There are a lot of Govt. officials on the Board whose main responsibility is the Cantonment.
A note about Cantonments - they were all established by the East India Company while it was still in power before 1857. Buying and selling property became impossible only after 1977. This was the work of the short lived 'Competent Authority'. Cantonments always contained Bazars, private property, hotels,Cinema halls . They contained the Military establishments they were not owned by the Military. The decay started from that time only. Administration does not mean ownership. The stone slabs declaring that the Land is Defence land came up after 1977.
The latest is this they are cutting of water supply to the Bungalow area. We don't need a Tsunami for disasters.
Pictures of Meerut in 1943
Click here
Could be of interest to residents of other Cantonments. There are such few pictures of the Raj just before Independence.
Remains of a project which lasted a 100 years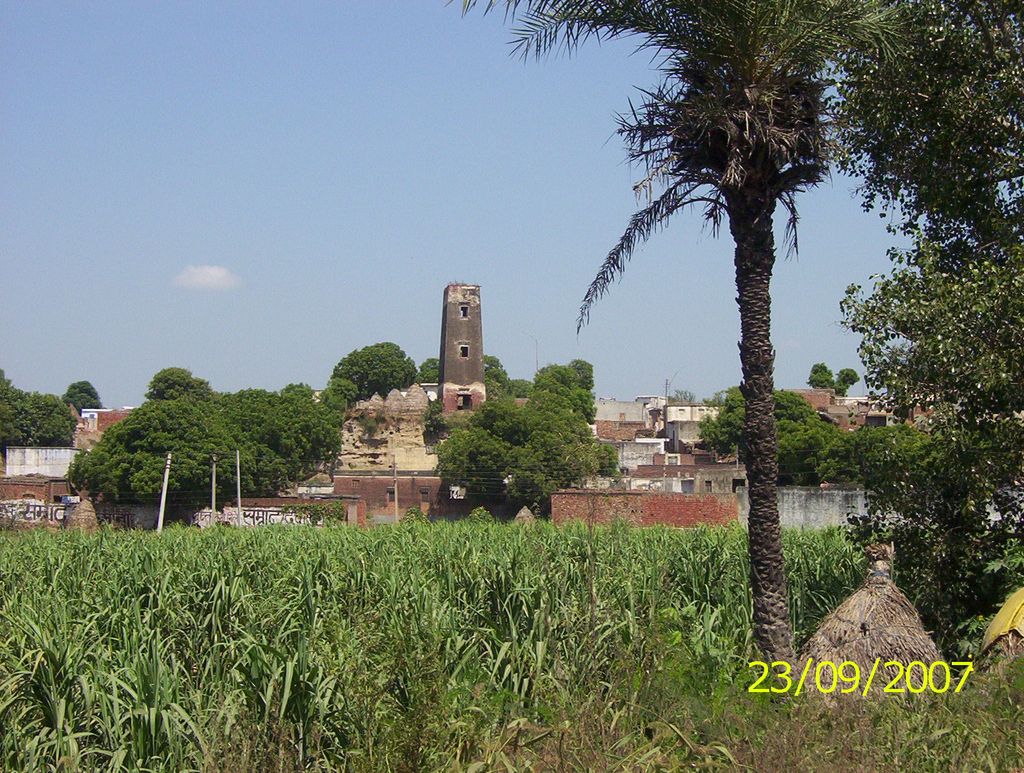 The tower in Saini village which was constructed during the Great Trigonometrical Survey. The Survey started in the early 19th century, lasted a 100 years. Mount Everest was discovered during this in 1851.Curious about the Survey ? You could search for a document called Full Text of Account of the Operations of the Great Trigonometrical Survey of India Volume XVII.htm.This mentions that about 3700 were built in the entire country. About 3000 remained when the text was written. The Survey started at Cape Comorin.
---
- - - MEERUT is an ancient town , but little literature about it is available . Any information mythical, factual, or in the form of hand me down stories is welcome. Contact address is at the bottom of page.

It is not generally known that Meerut was included in the 16 major towns of Ashokan times . An Ashokan pillar was erected here which means that this was a major buddhist center . Contrary to popular belief this pillar was shifted to Delhi not by the British but by Firoz Shah around 1300 AD For the uninitiated the Ashokan Period ( short history lesson ) itself dates at around 256 BC. About 75 years after Alexander's ( Sikander in Hindi ) invasion of the Punjab.
Don't know what Ashoka wrote about ? Then checkout the translation of all his Edicts by clicking here .

This set of pages will be expanded considerably soon (hopefully). However presently it is partial to the immediate colonial past. See a 1904 map of the district ( click here) .And of the town (click here )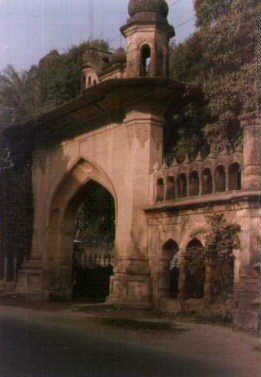 Photo 1
This is the entrance to the Grand building shown below. Belongs to the family of Nawab Ismail. One of the sons was a signatories of the Indian constitution. There is a huge photograph of all the signatories of the constitution in the main room. It is not a public place .
A few figures about Meerut. The latest census puts it in the above 1 million category. It has about the same population as Indore, Faridabad, Thane. It is the 24th largest town in India (populationwise), and the 3rd largest town in UP after Kanpur and Lucknow. Kanpur is larger than Lucknow with a population of 2.5 million.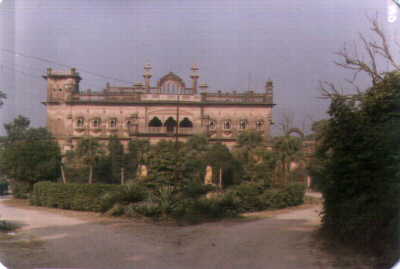 Photo 2
Perhaps the Grandest old building in Meerut. 'Palace' may not be off the mark . Still occupied by the descendants of the original owners. The Drawing room is retained in its original layout as a tradition . Among many antique items is an old floor standing candle stand , which can hold 7-8 candles . It is still used because of a very unreliable electric supply.
West End Road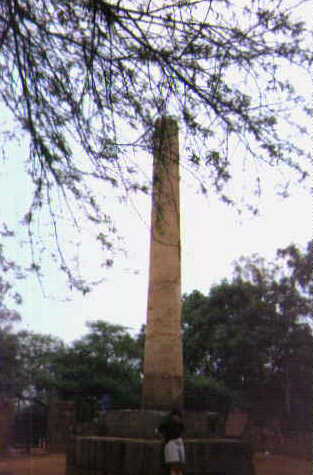 From the plaque near the Pillar.
ASHOKA'S PILLAR
================
This pillar of Ashoka ( C 263-232 B.C) brought by Firoz Shah Tughluq from the neighborhood of Meerut, was
set up by him in his "Hunting Palace" called Kushak-i-Shikar in AD 1365.
The contemporary historians describe the complicated transport of this pillar from its original site to DELHI by the river. It broke into 5 pieces in an explosion during Farruk Siyar's reign(A.D.1713-1719 ) . And its inscribed portions were later sawed off and sent to the Asiatic Society of Bengal, Calcutta. In 1866 they were received back and all the broken pieces were joined together and the restored pillar was again put up here in 1867. The Pillar now measures 10M in Height.
Inscribed in Brahmi Script and written in the Prakrit Language, this inscription of Ashoka contains his messages and instructions for promoting the Dharma and the welfare and happiness of the people.

Did you know that there is a discussion on about whether Asoka actually built the pillars . Here is someone who says that Ashoka made his inscriptions on already existing pillars. These pillars he says are the long lost altars of Alexander the great. That seems unlikely as Alexander is known to have stayed on this side of the Indus for only a few months. The pillars are made of stone from Chunar and are found at great distances from the Indus. Click here to read the page.






No text about Meerut can be complete without some mention of the Mutiny in 1857 .
War of Independence if you will. I would call it that if it had been successful. There was no chance of that, we are by nature not really a warlike people. Meerut had a full fledged British Indian Army Garrison while Delhi only had a Field Force at that time.
Meerut is often associated with the start of the 1857 Mutiny - here are some details. Actually an incident in Barrackpore is supposed to be the real beginning. That seems more likely since Calcutta had been longer under British control.

The Following is the text of inscriptions on some
of the marble slabs on the Mutiny Memorial on Delhi Ridge


LIST OF ACTIONS FOUGHT AT OR NEAR DELHI BY THE DELHI
FIELD FORCE FROM 30TH MAY TO 20TH SEPT 1857

Battle of the Hindun

- MAY 30th

" Ghazee Bodee Nucur

- MAY 31st

" Badlee Sepai

- JUNE 8th

Affairs at Hindu Rao's

- JUNE 9th

" "

- JUNE 10th

" "

- JUNE 11th

Attacks on the Flag staff Tower
and Subzee Mundee

- JUNE 12th

Attack on Metcalf Piquet

- JUNE 13th

Action of KissenGunge

- JUNE 17th

Attacks on British Camps

- JUNE 19th & 20th

Action of the Subzee Mundee

- JUNE 23rd

Attack on "

- JUNE 27th

Attack on "

- JUNE 30th

Action of Alipore

- JULY 4th

Attack on British Camp

- JULY 9th

Actions of the Subzee Mundi

- JULY 14th & 18th

Affair of the Trevelyn Gunge

- JULY 20th

Action of Metcalfe House

- JULY 23rd

Action of Kissengunge

- AUGUST 1st

Action of Koodsea Bagh

- AUGUST 12th

Battle of Nujufgurh

- AUGUST 25th

THE SIEGE

| | |
| --- | --- |
| No. 1 Battery Made & Armed | SEPT 7th |
| No. 2 Breaching Battery Made & Armed | SEPT 8th, 9th&10th |
| No. 3 Breaching Battery Made & Armed | SEPT 10th & 11th |
| No. 4 Mortar Battery Made & Armed | " |
| No. 5 Mortar Battery Made & Armed | " |
| Breaching and Bombardment | SEPT 11th, 12th&13th |
| STORMING OF DELHI | SEPT 14th |
| Capture of the Magazine | SEPT 16th |
| Capture of the Palace | SEPT 19th |
| City finally evacuated by the Enemy | SEPT 20th |
| Last year after the militant attack in RedFort, some journalists were wondering why there were military Barracks in Red Fort . Here is the answer . They plundered and demolished the Mahal of the Women and children of Bahadur Shah Zafar. And as further humiliation made them into barracks 'for the troops' . Our Indian Bureaucrats and Military officers have always been partial to British sentiment long after their Departure. No one can really blame them over a hundred years after the incident. As far as the Bureaucrats and Military officers are concerned Independence did not happen. They still celebrate victories over Indian forts and principalities at regimental dinners in the armed forces. | Do read the casualty list on the right. Less than 5000. Now sit and spare a moment for this figure . By the second world war the West had become so 'advanced' that they almost decimated their entire male population below 40. Reliable figures excluding the 2 or 3 million Jews gassed alive during the holocaust is around 20 million. It was such fun killing people that the clowns threw the atomic bomb twice. War was great fun if someone else died, the far eastern powers were not to be left behind . There was a war going on between China and Japan from 1937 onwards . They were also quite industrially 'advanced' and made such beautiful weapons that it would be a shame to leave them on the shelves to rust. They killed an equal number of the population. Yes about 20 million. By the way the AK-47 is very often of Chinese manufacture , though of Russian Design. |

Can you feel the battles in your bones ? In the 20th century war had become too mechanized and impersonal . There were no machine guns at this time. They used muzzle loaders* (also) where each shot needed quite a bit of time to load.The charge may even explode if you were not careful. Swords and daggers were still used. You would kill only if you had to. Do note the dates these are the worst months, in northern India. (Alexander did not feel so great after he crossed the Indus around this time . It wasn't warriors who chased him back but the mosquitoes and the heat.) Travel was not mechanized yet. No not even the bicycle.The Railways were making an appearance in Europe. But the telegraph had appeared , and a telegram was sent to Delhi from the Meerut GPO when the mutineers headed that side. And yes you could die with a minor wound. There were no antibiotics no chloroform.

* Meerut perhaps has the largest number of gun shops in India ( P.L. Sharma Road ). Until a few years back you could still purchase gunpowder and gunshot for use in muzzle loaders. Perhaps even now.


ABSTRACT
OFFICERS NC OFFICERS AND SOLDIERS

| | | | | |
| --- | --- | --- | --- | --- |
| | BRITISH | NATIVE | BRITISH | NATIVE |
| KILLED | 46 | 14 | 543 | 426 |
| WOUNDED | 140 | 49 | 1426 | 1180 |
| MISSING | | | 13 | 17 |
| TOTAL | 186 | 63 | 1982 | 1623 |
| | |
| --- | --- |
| | |

Other Pages
Hi ! Do talk back - with suggestions,...